Effect Club Rewards
When you perform a "People Search", which has a value of 1 "Snap", we will reward you with 1 "Bullet", which can be used for the Services available in the table below, which also includes the value in Bullets for each of them:
| No | Service | Bullets Values |
| --- | --- | --- |
| 1 | UK Business Search | 0,25 Bullets |
| 2 | ICIJ Search | 0,25 Bullets |
| 3 | OCCRP Dataset | 0,25 Bullets |
You will be able to use many of our Services at no additional cost. Because we want you to use them; We have developed for you, to offer you a single space in which to carry out all your researchs, without the need to use tedious and boring link resources lists. As our battle cry says, "Everything in One Click, in Only One Space"
Requirements for accessing the Club's Benefits
Effect Club is reserved for our most loyal customers. People like you who use our research tools on a daily basis, who are convinced of the value they bring, and who demonstrate their trust in our Company.
Effect Group, as Company, would like to repay the trust you have shown in our Services, giving you the chance to join our Club, when at least one of the following two conditions were met:
From the fourth month of Subscription in the "Effect Group Base" subscription.
For the purchase of a "Pro Snap Pack", regardless of the number of months with active subscription
Once you meet one of the above conditions, you will automatically become a member of our Club. Your Dashboard will be updated, indicating you are now an "Effect Club Member", together with your membership number. The "Bullets" you have generated will be displayed in your Effect Group Account, in the same way as the "Snaps" do.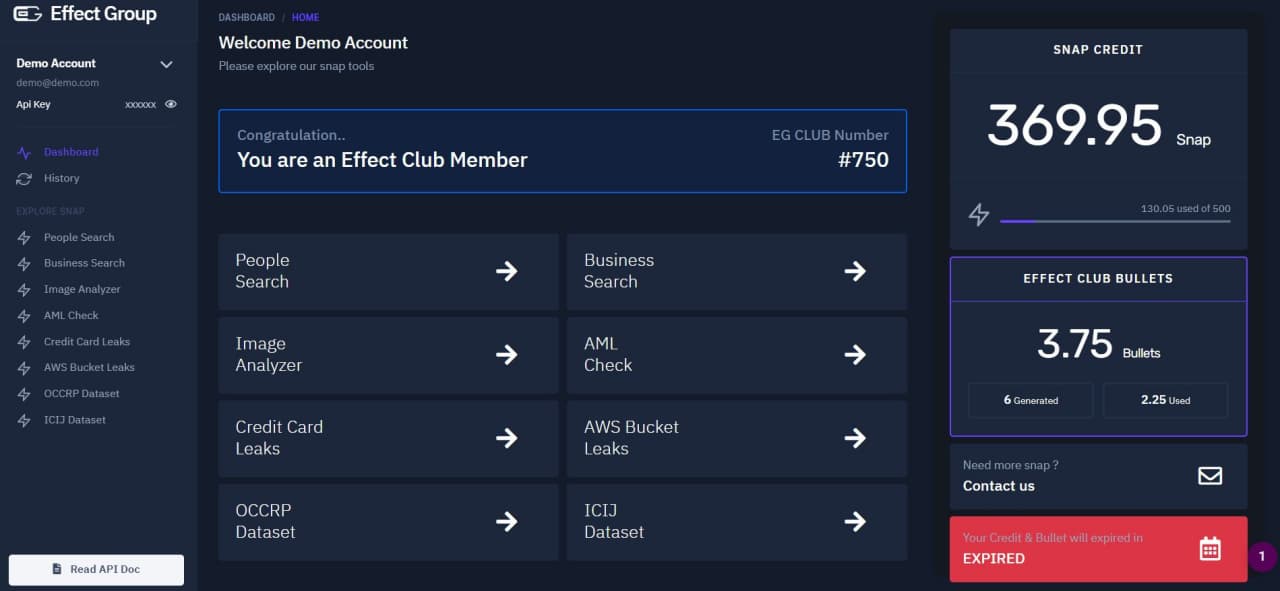 How it works?
As we have explained above, once you become a member of "Effect Club", each "People Search" will generate a Reward. This Rewards are called "Bullets", and can be used to run the Services shown in the previous section, for Free.
In that way, if you have generated 3 "Bullets", you can use them to perform, for Free, 12 "Uk Business Search", or 6 "Uk Business Search" + 2 "OCCRP Dataset" + 2 "ICIJ Dataset". All combinations are possible, as long as the limit of available "Bullets" wont be exceeded.
As we have seen before, you will know at all times the "Bullets" you have generated, the ones you have used and you still have to use, through your Main Dashboard, in the "Bullets Widget"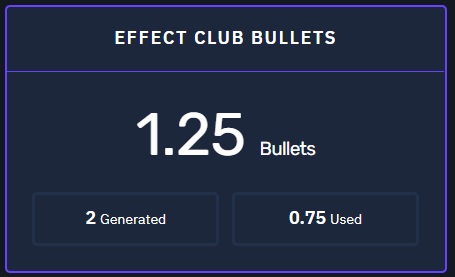 In the same way, when you are going to use a Service included in the Loyalty Programme, the Bullet Widget will be displayed, and you will be asked if you want to use your available "Bullets" to perform the Search, or if you prefer to do it in a conventional way, through "Snaps". Here we can see an example for our "UK Business Search" Service.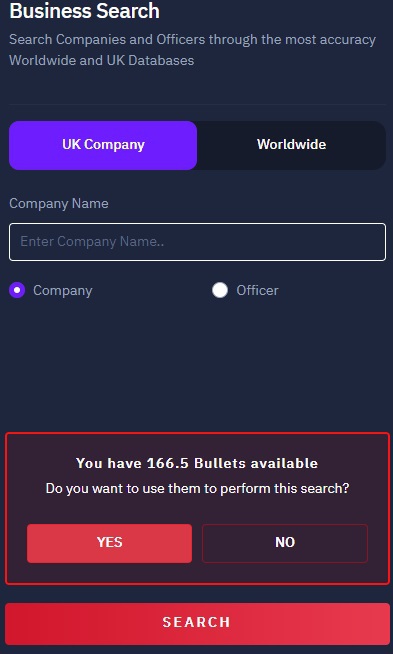 "Bullet Widget" in UK Business Search
Effect Club Program Terms of Use
As said before, for each "People Search", 1 "Bullet" will be assigned to your Account, which will be valid for the same period of validity as the traditional "Snaps"; For example, if "Bullets" are generated on the first day of a "Base Subscription" validity cycle (which has 1 month expiration time), that "Bullet" will be valid for 1 month. If it is generated on the 10th day, it will expire in 20 days. Or for example, if you buy a "PRO Snap Pack" (which has 3 months expiration time) and the first "Bullet" is generated in the first day, it will expire in 90 days. If it is generated in the 15th day, it will expire in 75 days
All Bullets will expire at the end of the term of the contracted "Subscription" or "Snaps Package" in which were generated.
But that's not all…
Being a member of "Effect Club" not only gives you Free Access to many of our Services. It is also the gateway to our Community, to our "Group". We have ready many surprises to make your experience with us much more enriching and exciting